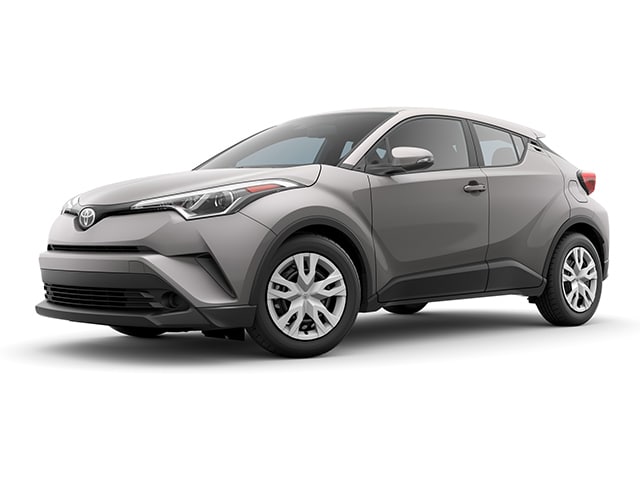 The Toyota C-HR is a compact hatchback, featuring a bold and striking look. It's adequately equipped, and comfortable to drive, even on longer distances. It handles turns and corners with unmatched precision, while its handling feels smooth and sporty. This crossover SUV also comes with plenty of advanced safety features, even in the base trim. You will also love its spacious and comfortable seats, great ride quality, and plenty of cargo room for your storage needs. Here are some more details about the Toyota C-HR.
Conklin Used Toyota C-HR Dealership Serving Wichita Kansas, Hutchinson Ks, Newton KS, Salina Kansas

Performance and Handling
The C-HR comes with a single 2.0-liter, inline-four engine, which has an output of 144 hp. Power is delivered to the front wheels via a continuously variable automatic transmission (CVT). An all-wheel drive is available in Japan and Europe, although it's not sold in the U.S. Both trims come standard with 3 driving modes - Eco, Normal and Sport. It's important to note that each driving mode has a distinct steering and throttle response. The Sport mode tends to give the vehicle more power, compared to the Eco and Normal modes. The Eco mode, on the other hand, is slower than the Normal and Sport modes. However, it's the most fuel-efficient mode among the three. In terms of handling, the used Toyota C-HR is nimbler than most of the other cars in its segment. As much it might not have a very powerful engine, it's quite an entertaining car to drive on curvy roads. And due to its small radius and turning footprint, it's easy to maneuver and navigate, even when you encounter tight spaces. It's 2.0-liter inline-four engine delivers a fuel return of 31 mpg on the highway and 27 in the city.
Interior and Comfort
As much as the Toyota C-HR is marketed as a compact SUV, its interior is surprisingly wide and spacious. The front seats are well cushioned and comfortable. There is also plenty of headroom for front-seat occupants, even if you are 6-feet tall, mainly due to its low sitting position. Back-seat occupants, on the other hand, occupy a higher seating position than front-seat occupants. The higher seating position provides ample knee room for the occupants, thus enhancing the vehicle's overall comfort. Back-seat occupants will also have plenty of headroom and shoulder room. It can comfortably accommodate 3 adults at the back, and they will not feel cramped.
The Toyota C-HR also comes with numerous storage bins, trays, and cupholders. You will get 19 cubic feet of cargo room, under normal configuration. However, you can increase this room to 32.4 cubic feet, once you fold the rear seat. Standard seating features include cloth upholstery and 6-way, manually adjustable front seats. Heated front seats and an 8-way manually adjustable driver's seat are available. It also comes with two sets of LATCH seat connectors, which are easy to locate and use. All the anchors in this car are easy to access and clearly marked, which helps to eliminate any confusion.
Safety
If you are looking for a family car or a daily commute crossover SUV that has a decent safety record, then the Toyota C-HR is a great choice. It earned high safety scores, according to crash tests conducted by both the National Highway Traffic Safety Administration and the Institute of Insurance for Highway Safety. Both new and used Toyota C-HR comes with a rearview camera, 10 airbags, and hill-start assist. They are also equipped with Toyota's SafetySense-P package, which comes with features such as pedestrian detection, forward collision warning, adaptive cruise control, automatic high beams, adaptive cruise control, and automatic emergency braking. Blind-spot monitoring and rear cross-traffic alert are available in the higher trims.
Trim Levels
The Toyota C-HR is available in two trims - XLE Premium and XLE. Regardless of the trim you choose, you will get a 4-cylinder engine, continuously variable automatic transmission (CVT) and a front-wheel drive. The base XLE model comes standard with a leather-trimmed steering wheel, cloth upholstery, dual-zone automatic climate control, as well as an auto-dimming rearview mirror. Its infotainment system features a 6-speaker audio system, a 7-inch touchscreen, Bluetooth connectivity, voice recognition, a USB port, and HD radio. The XLE Premium trim comes with all the features available in the base XLE trim. It also adds proximity keyless entry, heated front seats, push-button start, rear cross-traffic alert, and blind-spot monitoring. Your chosen trim will depend on your budget as well as the features you are looking for.
Verdict
Fun, comfortable and generously outfitted, the Toyota C-HR is a reliable car for your daily commuting needs. It offers a composed ride and handling, absorbs bumps well and it's cozy to ride in. Its style is eye-catching and unique, and you will have plenty of space to store your valuables. If you are looking for comfort, affordability, and style, then you can get all of them in the Toyota C-HR.

More About:  Used Toyota Rav4  Used Toyota Camry  Used Toyota Highlander  Used Toyota Tacoma  Used Toyota Tundra  Used Toyota 4Runner  Used Toyota Avalon  Used Toyota Corolla  Used Toyota Prius  Used Toyota Yaris  Used Toyota Sienna  Used Toyota C-HR  Used Toyota Sequoia  Used Toyota Land Cruiser