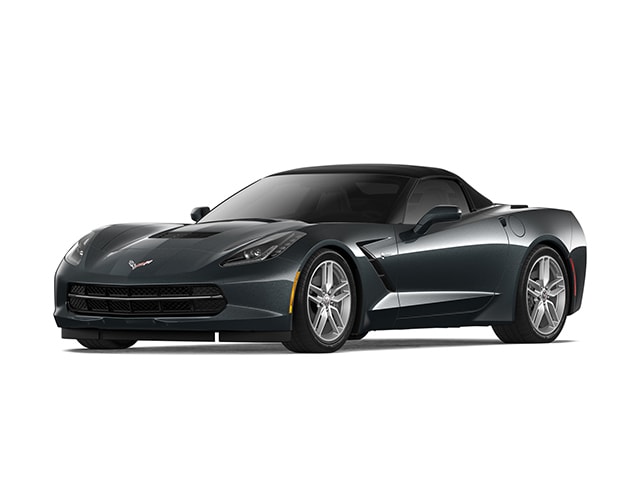 The Chevrolet Corvette Stingray is one of the best sports cars in the world today. It's sleek and stylish, reasonably priced and lightning fast. Even the base trim is a joy to drive. What sets it apart from other sports cars in its class, is its incredibly powerful engine, luxurious and elegant cabin materials, thrilling handling as well as low total ownership and maintenance costs for its segment. Its seats are comfortable, its cabin is roomy and its compelling style will definitely turn some heads wherever you go. Let's find out why the Chevrolet Corvette Stingray is such a popular sports car.

Conklin Used Chevrolet Corvette Stingray Dealership Serving Wichita Kansas, Hutchinson Ks, Newton KS, Salina Kansas
Performance and Handling
The Chevrolet Corvette Stingray has earned glowing reviews across the globe due to its robust performance. The base model comes with a 6.2-liter, V8 engine, which has a massive output of 455 hp. A 460-hp, 6.2-liter V8 and a 650-hp, 6.2-liter supercharged V8 engines are available. It boasts strong braking and responsive handling. The Corvette Stingray has adequate power across all the engines. When you put your foot on the gas pedal, this sports car will accelerate to the horizon. In short, it's built for speed and performance.
As noted earlier, its brakes are consistent and strong. According to tests conducted by Edmunds, this vehicle only required 90 feet to come to a stop from a speed of 60 miles per hour, which is quite remarkable. Its steering is precise and well-weighted. Therefore, placing your Chevrolet Corvette Stingray where you want it should not give you any problems. And thanks to its coupe-like design, the used Chevrolet Corvette Stingray is not bothered by sharp corners or bumps. It absorbs them comfortably and changes direction quite fast.
Interior and Comfort
The interior of the Chevrolet Corvette Stingray is modern, attractive and sharp, giving the vehicle a luxurious feel. The seats are roomy, supportive and generally comfortable, making the vehicle ideal for long drives. In fact, you can spend your entire day seated in this vehicle, and you will never complain of stiffness or fatigue. All the seats are highly adjustable. You will also love the ample cargo room that the Stingray offers, which is more than you would find in an ordinary sports car. Its infotainment system is easy to use and flawless. Regardless of the model you choose, the Chevrolet Corvette Stingray can only accommodate two people. Considering that this vehicle is not designed for commuting, it doesn't come with child car-seat connectors. And it's not advisable to install children's car-seat connectors on the front seat of this sports car or any vehicle. It's equipped with a spacious trunk that has a capacity of 15 cubic feet. As highlighted above, this is one of the largest trunks that you can find in a sports car. There are also plenty of storage spaces throughout the cabin.
Trim Levels and Features
The Chevrolet Corvette Stingray is available in four distinct versions. These are the Stingray 1LT, Stingray 2LT, Stingray 3LT, and Stingray Z51. The Stingray 1LT comes standard with 19-inch rear and 18-inch front wheels, xenon headlights, Brembo brakes, keyless ignition, and entry, LED running lights, leather upholstery, dual-zone automatic climate control, a power-adjustable steering wheel, and power-adjustable front seats. You will also get OnStar 4G LTE with Wi-Fi hotspot, a driver information display, Bluetooth connectivity, a rearview camera, as well as Chevrolet's MyLink infotainment system, featuring two USB ports, Android Auto and Apple CarPlay, as well as a 9-speaker Bose audio system.
The 2LT model adds a head-up display, auto-dimming driver side, a cargo shade, power-adjustable heated and ventilated seats, driver-seat memory settings, a ten-speaker sound system, and an upgraded interior. On the other hand, the 3LT model adds upgraded leather upholstery, a navigation system, Corvette's exclusive data recorder, and a synthetic-suede upper interior trim.
The premium Chevrolet Corvette Stingray Z51 mostly features performance-related upgrades. It features a 20-inch rear and 19-inch front wheels, slotted brake rotors, larger front brakes, an enhanced transmission system, a differential cooler, a dual-mode performance exhaust, sportier suspension tuning, as well as an electronic limited-slip differential, among others.
Verdict
If you are looking for a feature-packed, premium sports car, then the Chevrolet Corvette Stingray is a worthy consideration. Its superstar handling, combined with its breathtaking power is bound to trigger your adrenaline glands. And as much as this car is priced lower than its competitors, it doesn't mean that its features are of lower quality. While it's not a perfect sports car, it's a beast on the roads and on the racing track
Used Chevrolet Spark   Used Chevrolet Sonic  Used Chevrolet Corvette Stingray Used Chevrolet Trax Used Chevrolet Blazer