Used Buick Regal TourX Near Wichita Salina Hutchinson Newton Kansas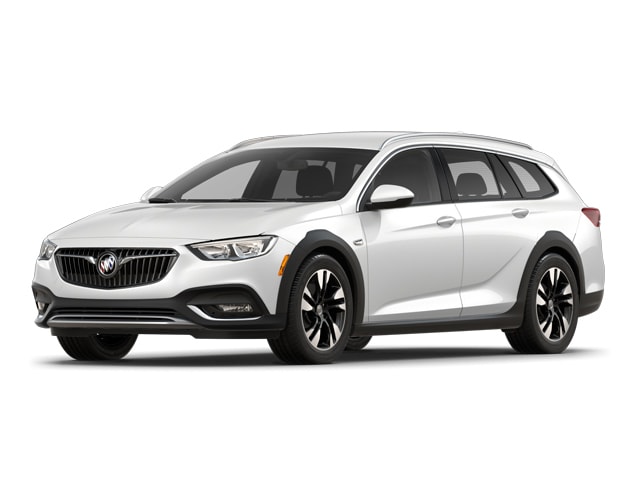 If you are looking for the versatility and roominess offered by a compact SUV, with the feel and look of a midsize sedan, then the Buick Regal TourX is an ideal choice. Fuel-efficient, stylish and comfortable, this crossover SUV offers more passenger space and cargo room, compared to most of its competitors. As much as it's designed for on-road performance and city roads, it can still handle some off-road driving, thanks to its higher ground clearance. It offers a relaxed and comfortable ride, which means you will enjoy your time behind its wheel.
Trim Levels and Features
The Buick Regal TourX comes with 3 variants: Base, Preferred trim and the Essence model. Each of the 3 models comes standard with a 2.0-liter, turbocharged, 4-cylinder engine, which delivers an output of 250 hp and 295 pound-feet of torque. This engine is then mated to an 8-speed automatic transmission.
Standard features on the base trim include LED running lights, 18-inch wheels, heated mirrors, a height-adjustable driver's seat, keyless ignition and entry, split-folding rear seats, and a rearview camera. It also comes standard with 4G connection and Wi-Fi, a USB port, a seven-inch touchscreen display, Android Auto and Apple CarPlay, as well as a Bose audio system.
The Buick Regal TourX Preferred adds various features like a power-adjustable driver's seat and an auto-dimming rearview mirror. Two packages are available for this trim - the Preferred Driver Confidence 1 package and the Sights and Sounds package. The Driver Confidence package mainly adds driver assistance features. On the other hand, the Sights and Sounds package features a navigation system, an 8-inch touchscreen, Bluetooth connectivity, two rear-seat USB charging ports, satellite radio, and remote start.
The Essence trim comes standard with most of the optional packages for the lower trims. It also adds dual-zone automatic climate control, a hands-free liftgate, leather upholstery, a power-adjustable passenger seat, split-folding rear seats, and a heated steering wheel. You will also get a wireless smartphone charging system, driver-seat memory functions, and a driver-side auto-dimming mirror. A panoramic sunroof is available for the Essence and the Preferred trims.
Interior and Comfort
Inside, the Buick Regal TourX is well designed. It offers adequate legroom and headroom. The controls are well placed and easy to find. Finding a comfortable seating position should not be a problem inside this crossover SUV. As much as the TourX has a low roof, its doors open wide, making it easy for passengers to get in and out. Even if you are a 6-foot driver, you will find a comfortable driving position. And as noted above, the seats are equipped with various power adjustments, which means you can tilt, lower or raise them, depending on your preferred driving dynamics. On the other hand, the tilt-and-telescopic steering wheel provides a decent driving range. The interior comes with plenty of soft-touch materials, which cushions your elbows and knees from the hard-plastic panels. Its cargo space is quite impressive. Designed as a lifestyle vehicle, its cargo area can hold tools, toys or anything else that you want to carry for your weekend adventures.
Performance and Handling
As noted above, the Buick Regal TourX comes with a 2.0-liter, turbocharged four-cylinder engine, which has an output of 250 hp. Considering that this crossover SUV is designed for commuting and conventional driving, then its power should be adequate for your needs. Its gearbox is well-tuned for smoothness and efficiency. Its handling is relaxed while its steering is accurate and quick. Its brakes are progressive and smooth, even during panic or hard stops.
Unlike other crossover SUVs, you will not experience any crabbing or chattering when you stop the vehicle from highway speeds. Whether you are driving it at high or low speeds, the used Buick Regal TourX is easy to maneuver. And since it has relatively low ground clearance, you will notice that it handles more like a sedan, cutting through corners with minimal body roll. All-wheel-drive is standard across all trims, which means it can handle some tricky road conditions.
As much as there are several all-wheel-drive crossover SUVs on the market today, only a handful are equipped with dual-clutch packs that Buicks has bestowed on the Regal TourX. With this system, the vehicle can distribute its engine's torque and power to the wheels that have the best grip, thus improving traction and acceleration. However, it's not built for dirt roads or rugged surfaces. And with a fuel economy of 29 mpg on the highway and 21 mpg in the city, the TourX is on par with most of the vehicles in its segment.
Verdict
The Buick Regal TourX is a versatile car that is equipped to handle different driving conditions. Its exterior is stylish, its interior is luxurious, and comes with plenty of cargo space and passenger space, making it a perfect family car.

Used Buick Regal TourX
Used Buick Envision
Used Buick Regal Sportback
Used Buick Cascada
Used Buick Regal Avenir