Used Buick Regal Sportback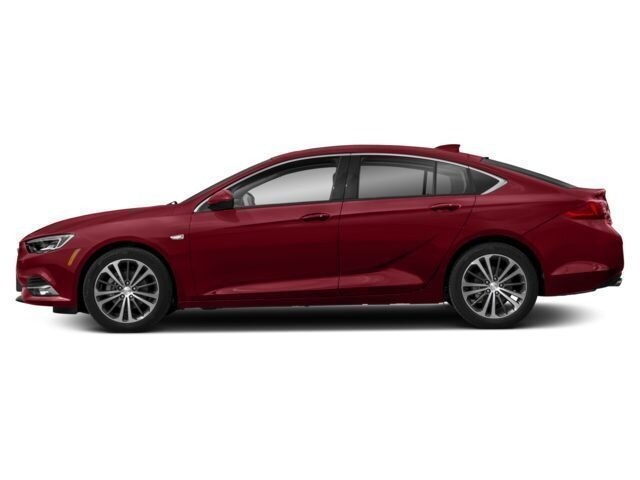 The Buick Regal Sportback is a mid-size car, which blends the versatility of a compact SUV with the luxury and comfort of a European sedan. Compared to previous iterations, the Regal Sportback offers more cargo capacity, flexible cargo loading, as well as an easier to access the cargo area. While it appears like a small car, you will be surprised to see how roomy it is, once you step inside this luxurious hatchback. If you are looking for a car that drives like a sedan but whose cargo capacity matches that of an SUV, then the Buick Regal Sportback is perfect for your needs.
Trim Levels and Features
The Buick Regal Sportback comes in 4 trim levels: 1SV, Preferred, Preferred II and the top-of-the-range Regal Sportback Essence. The Regal Sportback 1SV comes standard with 17-inch alloy wheels, LED daytime running lights, automatic headlights, keyless entry and ignition, heated power side mirrors, a rearview camera, and 60/40 split-folding rear seats and OnStar with 4G LTE and Wi-Fi hotspot. A 7-speaker audio system featuring a USB port and a 7-inch touchscreen interface also come standard.
The Preferred trim adds an auto-dimming rearview mirror, a power-adjustable driver's seat, as well as a leather-trimmed steering wheel. The Driver Confidence Package and the Sights and Sounds package are available. The Driver Confidence package adds LED headlights, 18-inch wheels, blind-spot monitoring, rear-cross traffic alert, and rear parking sensors. On the other hand, the Sights and Sounds package adds an eight-inch touchscreen, a navigation system, Android Auto and Apple CarPlay smartphone integration, two rear-seat USB charging ports, as well as a Bose 8-speaker audio system, featuring HD radio.
For the Preferred II trim, Buick adds an upgraded eight-inch touchscreen interface, dual-zone automatic climate control, 18-inch wheels, a heated steering wheel, split-folding rear seats, as well as a driver information display, fitted between the gauges. The Driver Confidence package is also available for this trim. Apart from the features listed above, it also adds wireless device charging. Premium Bose audio system and navigation are also available for this trim.
At the top of the range, you will get the Essence trim, which comes standard with all the features present in the lower trims. It also adds heated front seats, a power-adjustable passenger seat and leather upholstery. It also comes standard with an auto-dimming side mirror for the driver's side, and driver seat position memory. Buick also adds numerous safety features to this trim such as forward collision alert, adaptive cruise control, lane departure warning, and automatic emergency braking.
With four options to consider, you might be wondering which model of the used Buick Regal Sportback is the right one for you. Well, considering the price and features offered, the Preferred and the base trims are highly recommended. There is no much difference between the base trim and the Preferred trim, apart from the power-adjustable driver's seat. But if you would like to have access to all the useful tech features, then you should opt for the Preferred II trim.
Performance and Handling
Under the hood, the Regal Sportback features two powertrain configurations - an all-wheel drive and a front-wheel-drive setup. Both configurations come with a 2.0-liter, turbocharged engine, which delivers an output of 250 hp. All-wheel variants have an output of 295 pound-feet of torque while the front-wheel-drive models front-wheel-drive 260 pound-feet of torque. The all-wheel-drive models are mated to an 8-speed transmission while the front-wheel-drive models are connected to a nine-speed transmission.
Both engines are impressive. They deliver ample torque and power, without any noticeable lags in acceleration. While Buick is not always associated with energetic and exciting powerplants, that is clearly not the case with the Regal Sportback. Its transmission is surprisingly smooth, even when shifting gears. The all-wheel drive is also quite advanced. It uses a twin-clutch rear differential, which means it can transmit power to any of the rear wheels, for improved traction and performance.
Interior and Comfort
When it comes to cabin quietness, the Buick Regal Sportback is miles ahead of other cars in its class. Its quiet cabin allows for clear conversations among the occupants while its comfort-tuned suspension absorbs bumps with ease. Its large door openings allow easy on and off. Its seats offer ample legroom and headroom, while the tilt-and-telescoping steering wheel provides a comfortable driving position for the driver. And with a massive cargo storage area of 31.5 cubic feet, you will have more than enough space to haul your luggage. In fact, its trunk is one of the largest in its class.
Verdict
With its remarkable performance and stylish looks, the Regal Sportback remains one of the best mid-size cars from Buick's lineup of sedans. Apart from its luxurious appeal, it also comes with plenty of user convenience and performance features, at an affordable price point. 

Used Buick Regal TourX
Used Buick Envision
Used Buick Regal Sportback
Used Buick Cascada
Used Buick Regal Avenir