Used Buick Regal Avenir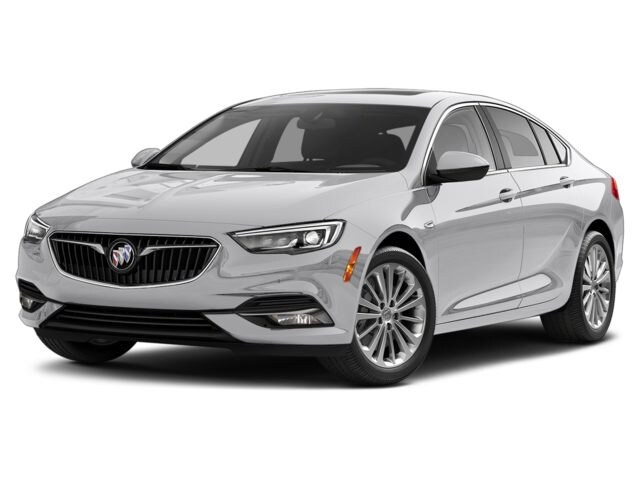 For many years, the Buick Regal has been associated with senior citizens. However, that is no longer the case, thanks to the introduction of the sleek models such as the Buick Regal Avenir. This stylish and cool midsize sedan will definitely appeal to younger auto shoppers. Apart from its responsive and powerful performance, the Regal Avenir also features a sleek and unique exterior design, as well as a spacious interior. It also comes with plenty of tech and safety features, designed to give you a safe but enjoyable ride.
Performance and Handling
The Regal Avenir comes with a 2.0-liter turbocharged engine, which delivers an output of 250 hp. Front-wheel drive comes standard. All-wheel drive and other performance features are available. The front-wheel-drive model is mated to a 9-speed automatic transmission while the all-wheel-drive versions come with an 8-speed automatic transmission. Whichever configuration you choose, you can rely on this vehicle to deliver a great driving experience. The available all-wheel-drive featuring active twin-clutch technology will automatically activate depending on the driving conditions. And once it's activated, it will deliver optimal power to the wheels, thus helping to improve traction, especially in slippery road conditions. On the other hand, the five-link rear suspension, which is available with the all-wheel-drive, provides a nice blend of agile handling and a smooth ride, thus making sure that your passengers enjoy a quiet and comfortable ride.
Interior and Comfort
Whether you buy a new or a used Buick Regal Avenir, you will find a cozy, premium interior. The Regal Avenir can comfortably seat five people. You will also enjoy great versatility in terms of seating and hauling cargo, thanks to its standard 60/40 split-folding rear seat configuration. This midsize sedan comes with 31.5 cubic feet of cargo space, which is spacious enough to accommodate your hauling needs. The cargo area is equipped with a mat, which helps to protect the cargo room's carpet from mud, snow, or rain. You might sometimes find yourself headed to the camping grounds with your family. The good news is that the Regal Avenir is adequately equipped to handle such scenarios. With its standard 60/40 or optional 40/20/40 rear seat configurations, the Regal Avenir is ready to handle your cargo needs. When you fold the rear seats, you will have a massive 60.7 cubic feet of cargo space.
The interior is packed with various comfort features such as leather-trimmed and heated front seats, a leather-trimmed and heated steering wheel, as well as ambient lighting. The Regal Avenir also comes with Active Noise Cancellation technology, which ensures that the cabin is quiet all the time. This technology brings together various measures such as a laminated windshield and side front windows, triple door seals as well as the use of acoustic materials, to help minimize, absorb and block noise. On the other hand, the 18-inch and 19-inch alloy wheels are furnished with sound-dampening foam, which helps to reduce road noise.
The used Regal Avenir comes standard with dual-zone automatic climate control, which allows both the front passenger and the driver to customize the temperature conditions of their side. An air ionizer is available, designed to keep the cabin's air fresh and cool while the available driver seat memory allows you to set and use your preferred driving position. Just like other cars in its class, the Regal Avenir comes with various tech features, designed to keep you entertained and connected with your friends and family. Some of the notable tech features in this car include in-built Wi-Fi hotspot, wireless smartphone charging, Android Auto and Apple CarPlay compatibility, as well as an 8-inch touchscreen interface. An 8-speaker, Bose premium audio system is available.
Safety
Without a doubt, the Regal Avenir is a safe car to drive. The road is always unpredictable, and you don't know what you will come across when you are out there. And that's why Buick has equipped the Regal Avenir with various standard and available driver assistance features, to help you remain safe on the roads. However, it's always important to note that driver-assistance or safety features are not a substitute for your responsibility as a driver to operate your car carefully and safely. Having said that, this midsize sedan comes with safety features like lane change alert, blind-spot monitoring, front pedestrian braking, rear-cross traffic alert, forward collision alert, enhanced automatic braking, and lane departure warning.
Verdict
Without a doubt, the Regal Avenir offers a truly luxurious experience. It comes with a large cargo bay, peppy powertrains, and an athletic ride. If you are looking for a car that offers an upscale touch, plenty of useful features and great noise insulation at an affordable cost, then the Regal Avenir is a worthy investment.
Used Buick Regal TourX
Used Buick Envision
Used Buick Regal Sportback
Used Buick Cascada
Used Buick Regal Avenir