Used Toyota Camry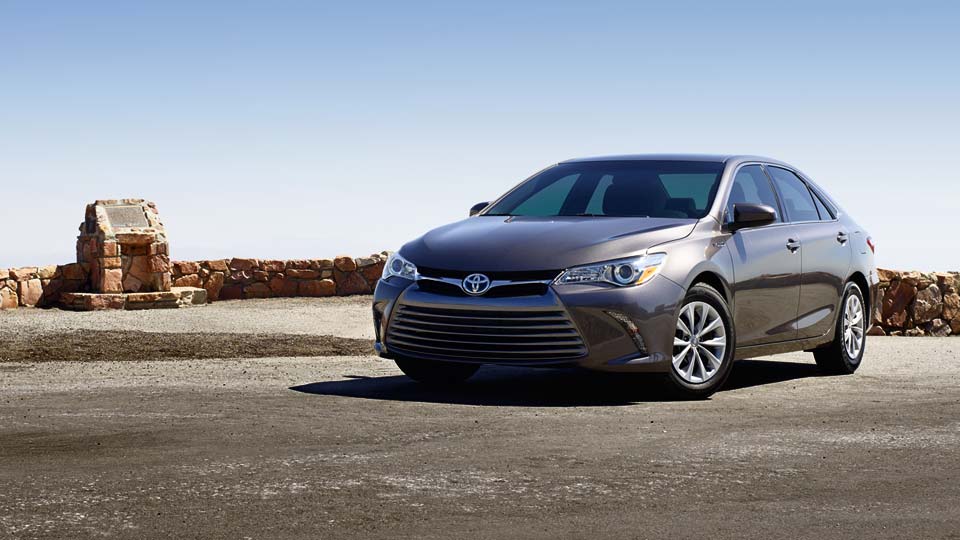 Used Toyota Camry is a luxury car, sports car and family combined into one. As a family car, it has a comfortable, spacious interior, lots of space for cargo storage and three child restraint anchorage points. It comes with a wide range of impressive features, which are designed to enhance performance and sports appeal. The Toyota Camry also features luxurious details, which are not ordinarily found in a family car such as high-quality upholstery fabric, stylish dashboard layout as well as an extensive, intuitive and intelligent digital technology. No wonder it remains one of the most popular mid-size sedans.

View Used Toyota Camry Inventory

Conklin Used Toyota Camry Dealership Serving Wichita Kansas, Hutchinson Ks, Newton KS, Salina Ks, Junction City KS and Kansas City Mo.

Key Benefits

- Highly reliable
- Good fuel economy
- Stylish exterior design
- Spacious and comfortable family vehicle
- Excellent safety record
- Affordable

Interior and Comfort

Although a Used Toyota Camry is a mid-size car, it competes with larger cars when you consider interior space. It can seat five people comfortably. The rear seats have ample legroom and headroom, even for taller occupants. It also comes with rear air-conditioning vents, which keeps things cool in the cabin. Its quality is evident throughout its interior. The infotainment controls are intuitive and easy to use while driving.

The cabin is built with quality and attractive materials. You will also notice that the dash is pushed further forward than most cars in its class, which makes the cabin feel more airy and open. It has a functional styling, with numerous interior storage areas. With over 15 cubic feet of storage space in the trunk, there is sufficient room to store large suitcases or big family shopping. What sets the Camry apart from the competition is that it does not sacrifice rear seating comfort for cargo room.

Safety and Reliability

Regarding safety, the Toyota Camry scores respectable ratings. Its crash-test ratings are excellent, earning a maximum score of five stars from the NHTSA. Standard safety features include seven airbags, parking sensors, stability control, and a reversing camera. Higher-end trims come with more advanced safety features such as pre-collision safety systems, lane departure warning alerts, blind spot warning alerts and rear-cross traffic alert for safe reversing out of parking lots and driveways. The Camry remains one of the most reliable mid-size cars.

Drive and Performance

The Toyota Camry is designed to meet your daily driving needs in different ways. Its handling is responsive, and the ride is smooth. Transmission is crisp, and downshifting is quick. The base model has a standard 2.5-liter, four-cylinder engine, with an output of 178 hp. On the other hand, the 3.5-liter V6 engine has an output of 268 hp. The standard four-cylinder engine has an estimated fuel return of 24 mpg in the city and 33 mpg on the highway.

The V6 engine has an approximate return of 21 mpg in the city and 30 mpg on the highway, which means it's more efficient when it comes to fuel economy. The V6 engine is more powerful as compared to the standard four-cylinder engine. However, the standard four-cylinder engine has enough power and most users will be satisfied by its good blend of fuel economy and performance. It might not be as fast as other cars in its class, but it gets the job done effectively and efficiently.

Features

In 2017, the Camry will be available in four main trims, which are the LE, SE, XLE, and XSE. The base engine is the 2.5-liter. However, the XLE and XSE will be available in 3.5-liter V-6. The base model is equipped with automatic projector beam headlights, 16-inch steel wheels, power adjustable front wheels, power heated side mirrors, cruise control, air conditioning, tilt steering wheel, keyless entry, rearview camera and power windows. They also come with the Entune 6.1-inch touchscreen audio and infotainment system, auxiliary audio input, voice recognition, USB port, audio streaming and six speakers.
 
Verdict

Overall, a Used Toyota Camry fulfills all expectations when it comes to midsize sedans. That explains why it remains a best-seller in its class. With an emphasis on ease of use and comfort, coupled with a solid reputation for reliability and longevity, it is easy to see why. Some sedans from the competition might appear sportier or flashier. However, the Camry will always remain a worthy and honest choice. Whether you are looking for a luxury car, a sports car or a family car, the Camry has all those features for the price of one. If you prefer substance to style, then the Toyota Camry should be your top pick.

View Used Toyota Camry Inventory
Conklin Used Toyota Camry Dealership Serving Wichita Kansas, Hutchinson Ks, Newton KS, Salina Ks, Junction City KS and Kansas City Mo.

More About:  Used Toyota Rav4  Used Toyota Camry  Used Toyota Highlander  Used Toyota Tacoma  Used Toyota Tundra  Used Toyota 4Runner  Used Toyota Avalon  Used Toyota Corolla  Used Toyota Prius  Used Toyota Yaris  Used Toyota Sienna  Used Toyota C-HR  Used Toyota Sequoia  Used Toyota Land Cruiser

More About: Used Cars Hutchinson  Used Cars Salina  Used Cars Newton  Used Cars Kansas City
Conklin Cars