Used Nissan Maxima
The Used Nissan Maxima is in a class of its own. Although classified as a midsize sedan, it is sportier, more exciting, and refined than most cars in its class. It is well contoured, sleek and ready for modern drivers. It blends the sportiness of a luxury car, with the spaciousness of a larger car. With this combination, you will not have to spend more if you want a car with a plush interior and good performance. It is also one of the fastest cars in its class. All trims come with a high level of luxury and advanced safety features. If you are looking for a rewarding family vehicle, then the Maxima deserves serious consideration.

View Used Nissan Maxima Inventory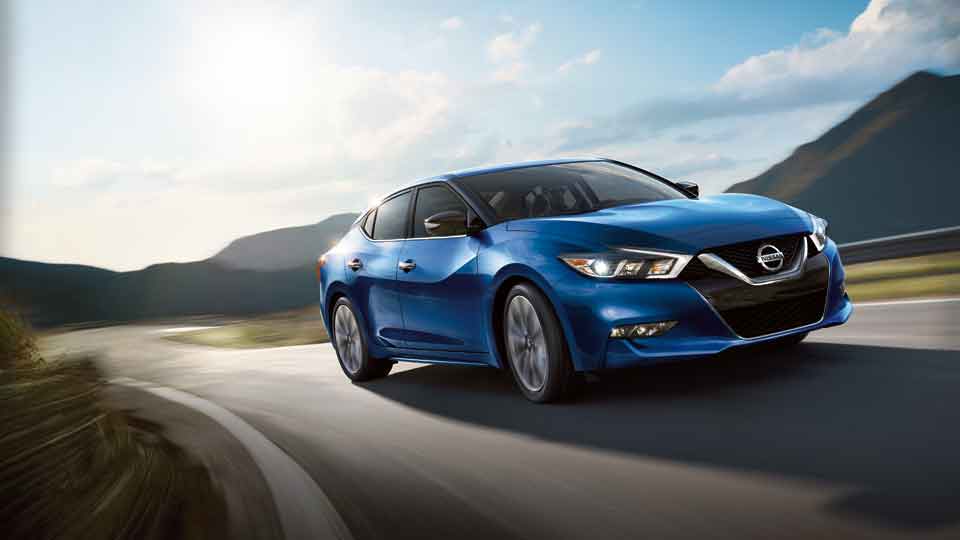 Conklin Used Nissan Maxima Dealership Serving Wichita Kansas, Hutchinson Ks, Newton KS, Salina Ks, Junction City KS and Kansas City Mo.

Used Nissan Maxima Key Benefits

- Fuel efficiency and economical benefits
- Extraordinary strength and power
- Advanced safety and security features
- Comfortable and spacious interior
- Attractive and stylish exterior
- Affordable and easy to maintain
- Great handling and feel-good driving experience

Used Nissan Maxima Interior and Features

The Nissan Maxima features a luxurious interior, filled with premium materials. Its infotainment system is also easy to use. The cabin is also insulated against external noise. Even when driving at highway speed, you will enjoy a quiet and serene cabin. It has a seating capacity of five, with cloth upholstery as a standard. Other standard features include power-adjustable front seats.

Available features include leather upholstery, a heated steering wheel, heated and cooled front seats, a power rear sunshade and driver seating position memory. The seats are supportive and comfortable. Interior features include a proximity key, dual-zone automatic climate control, and a rearview camera. It also comes with the NissanConnect infotainment system, featuring eight-speaker sound system, two USB ports, HD radio, satellite radio, and two screen displays. It has a cargo space of 14.3 cubic feet, with a wide opening and unobstructed floor for easy access.

Used Nissan Maxima Drive and Performance

Under the hood, the Maxima comes with a 3.5-liter V6 engine, with an output of 300 hp. A CVT, which works like an automatic, is also available. In terms of fuel return, it scores an impressive 30 mpg on the highway and 22 mpg in the city. These ratings are quite impressive when you consider it's a six-cylinder car.

Also, its engine is also one of the most powerful when it comes to non-turbo V6 engines. It delivers quick acceleration and delivers enough highway power. Nissan has spent a considerable amount of time refining the Maxima's engine, and the effort has paid off. You can feel its agility throughout the ride. Handling is smooth and effortless while cutting corners is as easy as driving on a straight road. Continuously Variable Transmissions are not everyone's cup of tea. However, Nissan has spent countless hours refining the Xtronic CVT found in the Maxima. The result is increased fuel economy and better driving experience.

Used Nissan Maxima Safety and Reliability

Just like other vehicles from this brand, the Maxima is equipped with a wide range of convenience and safety features, designed to give you confidence behind the wheel. These features also make every ride safer, more enjoyable and better. Some of the features include forward collision warning, blind spot monitoring, rear cross traffic alert and emergency braking. The Predictive Forward Collision Warning alerts you when there is an imminent risk ahead. It achieves this by monitoring the distance and velocity of the vehicle ahead and then warns you when that vehicle slows unexpectedly or suddenly. You then have time to react.

There is also the Forward Emergency Braking system, which monitors your speed as well as the distance of the vehicle ahead. It reduces your speed to avoid a collision. If the collision is not avoidable, then the system will engage the brakes, thus reducing both the impact and severity of the collision. Other protection features including six standard airbags and a LATCH system.
 
Also included is a Child Safety Seat Guide, which provides information on the right types of child seats to use on the vehicle. Safety response features include dynamic vehicle control, traction control system, brake assist, electronic brake force distribution, and traction control system. Its reliability record is equally impressive.

Verdict

If you want a nicely equipped, sharp looking, fun to drive and extremely comfortable midsize sedan, which is also affordable, then the Nissan Maxima may be the ticket. With the Maxima, you get the privilege of enjoying luxury features without spending luxury brand prices. It is an excellent vehicle and the safest in its class. It's fun to drive while its reliability is way above average. At Conklin Cars, we have a large inventory of used Nissan Maxima. Visit us today and select your preferred model.

View Used Nissan Maxima Inventory

Conklin Used Nissan Maxima Dealership Serving Wichita Kansas, Hutchinson Ks, Newton KS, Salina Ks, Junction City KS and Kansas City Mo.

Used Nissan Altima
Used Nissan Rogue
Used Nissan Armada
Used Nissan Frontier
Used Nissan Juke
Used Nissan Maxima
Used Nissan Murano
Used Nissan Sentra