Used Honda Odyssey
The Honda Odyssey is a versatile wagon, sitting on top of its class. It is a good example of a family vehicle done well, and a minivan done well. It can handle a wide range of passenger and cargo combinations while still fun to drive. Its numerous family-friendly features, combined with excellent build quality explain why it manages to outshine the rest. As the owner of this minivan, you will enjoy plenty of power, comfort, fuel efficiency, and a smooth driving experience, all packaged for the price of one. It comes with almost everything you would need in a minivan.

View Used Honda Odyssey Inventory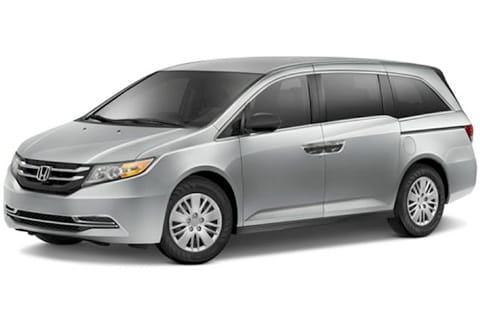 Conklin Used Honda Odyssey Dealership Serving Wichita Kansas, Hutchinson Ks, Newton KS, Salina Kansas


Used Honda Odyssey Key Benefits

- Roomy and comfortable interior
- Reliable performance
- Frugal fuel efficiency
- Practical versatility and smooth styling
- Wide range of safety features
- Affordable family carrier
- Superior handling and engaging driving experience
- Low cost of ownership
View Used Honda Odyssey Inventory
Used Honda Odyssey Interior and Comfort

Odysseys have been around since the mid-1990s. With over 20 years in continuous improvements, their comfort is evident the minute you open those big doors. Entry and exit are easy, even for the rear seat occupants thanks to the one-step fold and slide design of the middle-row seat.

The controls are light and natural. From the liner transmission to the progressive accelerator action, you will find it easy to feed in power seamlessly. On the other hand, the steering wheel is equally well moderated to make it small and agile. You will feel relaxed and in full control behind the wheel. Most tall vans out there have an issue with tall winds. However, that is not the case with the Honda Odyssey.

It comes with a spacious seating capacity of eight people. However, the seating capacity mainly depends on the seating configuration and the model. The base model can accommodate up to eight people. Higher trims can seat up to eight people. All seats are comfortable, and the controls are easy to access. The second-row seats are spacious enough to keep passengers comfortable. Also, the third-row seats have more room than even larger crossover SUVs.

Unlike most minivans in its class, the Odyssey manages to strike a nice balance between form and function. The cabin is well designed, and you will encounter quality and soft materials throughout the interior. It is easy to see why it is ranked as one of the best in its class. When it comes to cargo space, you will find to struggle to find another minivan with more space than the Honda Odyssey. You have 38.4 cubic feet of cargo space behind the third-row seats, 93.1 cubic feet when the third-row seats are folded, and 148.5 cubic feet when the second-row seats are folded.

Used Honda Odyssey Drive and Performance

A 3.5-liter V6 engine, with an output of 248 hp is the base engine. It is then paired with a six-speed automatic transmission. The engine has enough power for your daily activities, whether you are cruising along the highway or driving in the city. It has the smoothest engine in its class. Its V6 engine also has great fuel economy with a fuel return of 27 mpg on the highway and 19 mpg in the city. It Handling is nimble, and the ride is comfortable even on rough surfaces.

Used Honda Odyssey Safety and Reliability

Every Odyssey comes with six airbags, stability control, auto-on headlights, multi-angle reversing camera and LED daytime running lights. This package is designed to protect you during a crash while maximizing your visibility. It also makes it easy to reverse thus reducing risks from oncoming vehicles or obstacles. Higher trims come with blind spot monitoring and a cross-traffic monitor.

Used Honda Odyssey Features

Standard features include an MP3 compatible entertainment system fitted with a CD player, AM/FM radio, Bluetooth connectivity, six speakers and voice control. All these are accessed from a 7.1-inch touchscreen display. It also comes with climate control air conditioning, height and reach adjustments, and power-folding and heated external mirrors, among others.

Verdict

If you are looking for a reliable family vehicle, then the Honda Odyssey should be on top of your considerations. It has been consistently ranked as the best in its class, thanks to its high quality. Honda has a reputation of manufacturing quality cars, which keep you safe and perform well. Only a few things are a sure bet in this world. Fortunately, the Honda Odyssey is one of them. You will appreciate its ample storage, versatile seating, and excellent ventilation. Visit our showrooms today and get yourself a Pre-owned Honda Odyssey.

View Used Honda Odyssey Inventory

Conklin Used Honda Odyssey Dealership Near Wichita Kansas, Hutchinson Ks, Newton KS, Salina Kansas City Mo.

See All Honda Models: Used Honda Accord    Used Honda CR-V   Used Honda Civic   Used Honda Odyssey  Used Honda Pilot   Used Honda Fit
More About: Used Cars Hutchinson  Used Cars Salina  Used Cars Newton 
Conklin Cars