Kansas Used Ford Mustang Near Wichita, Salina, Hutchinson, Newton Kansas

If you always wanted to own a sporty American convertible or coupe, then the Ford Mustang presents the best opportunity. Classy and stylish, the Mustang comes with modern tech and premium features, combined with a powerful performance. With the Ford Mustang, you will always turn heads wherever you go. Its most impressive feature is the punchy V8 engine, with an impressive output of 435 horses. Even you choose the more affordable turbocharged four-cylinder or the V6; you will have respectable power and great fuel economy.

View Used Ford Mustang Inventory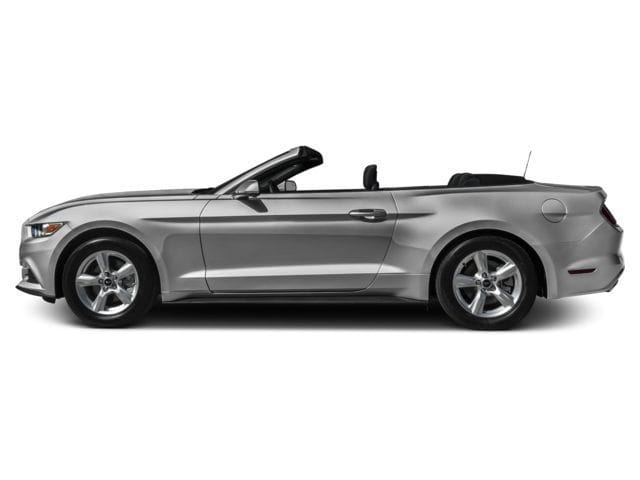 Conklin Used Ford Mustang Dealership Serving Wichita Kansas, Hutchinson Ks, Newton KS, Salina Kansas
Used Ford Mustang Key Benefits
- World class interior
- Efficient engine choices
- Stunning design
- Wide range of premium features
- Available performance packages
- Precision steering and great handling
Used Ford Mustang Interior and Features
The used Ford Mustang comes with a stunning interior design. It features modern styling as well as plenty of high-quality materials, which are better than most cars in its price range. The front seats are spacious and comfortable. Trunk space is enough for its class. Most Ford Mustang trims have a seating capacity of four. Cloth upholstery is standard.
Available features include power-adjustable front seats, leather upholstery, and Recaro sports seats. With the Ford Mustang, changes in weather will never be an issue, thanks to the heated and cooled front seats. On the other hand, the Recaro sports seats provide the much-needed support, especially during high-speed cornering. Regardless of the seats you choose, comfort is always guaranteed in the Ford Mustang.
Standard interior features include proximity key, rearview camera, SYNC voice-controlled infotainment system, Bluetooth and two USB ports. Just like other Ford Cars, the Mustang comes with the My Key feature, which allows you to limit audio volume and speed. Available features include remote start, rain-sensing wipers, dual-zone automatic climate control, 12-speaker Shaker audio system and SYNC 3 infotainment system.
Used Ford Mustang Drive and Performance
The Ford Mustang is available in different engines and models, to cater for the needs of different buyers. Whether you are weekend track warrior or a fuel-conscious commuter, there is an engine for you. Based on the trim that you choose, you can get a monster for off-road driving or a nimble Mustang for city driving.
The base trim comes with a 3.6-liter, V6 engine, with an output of 300 hp and 280 pound-feet of torque. If you want more power and better fuel economy, then you should go for the EcoBoost engine. This model features a 2.3-liter, four-cylinder engine, with a smooth operation. It has an output of 310 hp as well as 320 pound-feet of torque.
There is also the V8 engine, with real muscle and power. Featuring a 5.0-liter V8 engine, this one has an output of 435 hp and 400 pound-feet of torque. As you can see, there is plenty of energy and power for all your driving needs. All the three engines are mated to a six-speed manual transmission. A six-speed automatic is also available. Both engines deliver smooth shifts. The base V6 engine has a fuel return of 27 mpg on the highway and 18 mpg in the city. The EcoBoost has the best ratings when it comes to fuel economy. It has a return of 30 mpg on the highway and 21 mpg while driving in the city.
Unlike other muscle cars, its handling is nimble and poised. Its ride is smooth, cuts corners with agility and the steering responds quickly. Its agile handling is better than most cars in its segment. It is only available in rear-wheel drive.
Used Ford Mustang Safety and Reliability
Safety is a top consideration when it comes to sports cars. The good news is that you can have peace of mind behind the wheel, thanks to the comprehensive list of safety features. Apart from the standard rearview camera, the Mustang comes with plenty of safety features, including forward collision warning, blindspot monitoring, rear cross traffic alert and adaptive cruise control.
Verdict
There is a lot of competition in the muscle cars category. However, if you want the best combination of features, performance, and price, then the Ford Mustang provides better value for money. The base trim is one of the cheapest in its class and comes with a wide range of standard features. The Mustang also remains one of the safest cars in its class. Also, nothing comes close to the Mustang, when it comes to size and performance. If you are looking for a used Ford Mustang today, visit Conklin Cars and select your preferred model.
View Used Ford Mustang Inventory
Conklin Used Ford Mustang Dealership Serving Wichita Kansas, Hutchinson Ks, Newton KS, Salina Kansas
More Used Ford Models:  Used Ford F-150  Used Ford Explorer  Used Ford Focus  Used Ford Escape  Used Ford Mustang    Used Ford Fusion    Used Ford Edge