Conklin Cars Used Ford F-150 Near Wichita, Salina, Hutchinson, Newton Kansas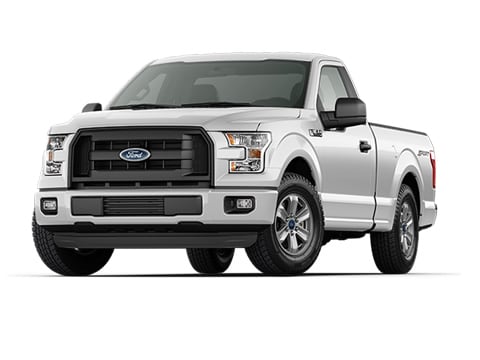 Pickup trucks have changed substantially over the last two decades. Back then, they used to be simple haulers or dedicated tools of tradesmen. Currently, they have their luxury market segment, where they are available in a wide range of configurations, trims, and features. One such a pickup truck is the legendary Ford F-150. It is available in 3 main models, which are the base 3.5-liter V-6, the optional 2.7-liter turbo V-6 as well as the 5.0-liter V-8. All models have a six-speed automatic transmission. The 3.5-liter twin-turbo V-6 is the best for towing since it can haul a maximum load of 12,200 pounds. SuperCab, SuperCrew and Regular cab bodies, make a Used Ford F-150 a versatile classic pickup.

View Used Ford F-150 Inventory

Conklin Cars Used Ford F-150 Dealership Serving Wichita Kansas, Hutchinson Ks, Newton KS, Salina Kansas 


Interior and Comfort

Looking at the interior, its seats are comfortable and spacious, with lots of infotainment for driver and the other occupants. The Regular Cab can seat three occupants while the SuperCrew and SuperCab models can seat five or six. Cloth upholstery is the standard. Available interior features include leather and vinyl upholstery, power adjustable front seats, front bucket seats, heated and ventilated front seats, heated steering wheel and ventilated front seats. The front seats are comfortable and spacious. In the SuperCrew and SuperCab types, the rear seats come with sufficient space.

A pre-Owned Ford F-150 also features Ford's MyKey System. This feature comes in handy for those with teenage drivers. With this feature, you can program a secondary key to limit speeds as well as radio volume. In short, you just need to program the secondary key to certain limits before handing it to your teenage driver. This way, you will have less anxiety whenever they are on the road.

Safety and Reliability

Standard safety features in the Ford F-150 include anti-lock brakes, side curtain airbags, daytime running lights, as well as traction or stability control. Other safety features include driver airbag, passenger airbag, rear airbag, side head airbag, rear head airbag, rear body airbag, brake assist, Auto-on headlights, child safety locks, lane departure warning, adjustable pedals, emergency trunk release, and blind spot monitor, among others.

Features and Performance

A Used Ford F-150 is available with various engine choices, based on user's preferences. The base engine is the 3.5-liter V-6, which is a solid performer. However, if you are looking for additional performance and power, then you should consider one of the turbocharged engines. The 3.5-liter V-6 has an output of 282 hp, which is enough power for daily driving and commute. In terms of fuel economy, it has a return of 22 mpg on the highway and 17 mpg in the city. Turbocharged engines are the best choice for hauling and towing.

View Used Ford F-150 Inventory
The turbocharged 2.7-liter V6 delivers the best fuel economy in a Pre-Owned Ford F-150 range. It has an estimated 26 mpg on the highway and 19 mpg in the city. The standard transmission is a responsive six-speed automatic. The six-speed gets the job done while the 10-speed transmission is preferred due to its quick and seamless shifts.

Whether you are off-roading, towing, or just driving on the highway, a UsedFord F-150 offers reliable handling combined with a comfortable ride. It also has great agility, as compared to other trucks on the market. Its sharp steering enables it to maneuver easily on winding roads. If you want a complete off-road truck, then you should consider the F-150 Raptor. It is a beast during off-road driving as well as the versatility to handle any terrain comfortably.

Verdict

The Ford F-150 stands out in its class, due to its ability to address the needs and wants of various truck buyers. Such is not a mean feat, considering that every individual has different options and preferences. It also ranks at the top of its class due to its lightweight aluminum frame, which is stronger and lighter than steel. If you are looking for a pickup truck that provides ample torque for towing and doubles up as a family vehicle, then the Ford F-150 is the right one for you.

Buying a Used Ford F-150

At Conklincars.com, we want to make sure you make the best decision when it comes to buying a used Ford F-150. We are always available to offer all the advice and information you need. We are committed to ensuring that you get the right vehicle for your needs. Visit us today, and make your dream of owning a pickup truck a reality.

View Used Ford F-150 Inventory
Conklin  Used Ford F-150 Dealership Serving Wichita Kansas, Hutchinson Ks, Newton KS, Salina Kansas .

More Used Ford Models:  Used Ford F-150  Used Ford Explorer  Used Ford Focus  Used Ford Escape  Used Ford Mustang    Used Ford Fusion    Used Ford Edge


More About: Used Cars Hutchinson  Used Cars Salina  Used Cars Newton 
Conklin Cars