Kansas Used Ford Escape
Since its introduction fifteen years ago, the Escape has remained one of the most popular SUVs in its class. Whether you are looking for a commuter car, a small family vehicle, a utilitarian daily SUV or just a car for your teen driver, this one will meet your needs. Its base engine is a great choice for budget-minded buyers, while the higher turbocharged engines are a perfect choice for those looking for a powerful SUV. All versions of the Ford Escape are good in fuel economy. If you are looking for an affordable, stylish and comfortable ride, then the Escape should be a worthy consideration.

View Used Ford Escape Inventory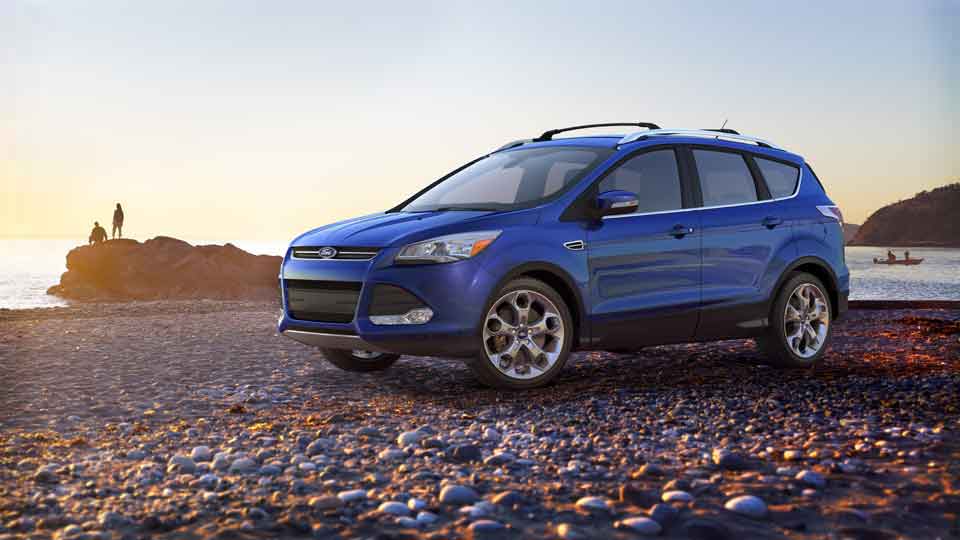 Conklin Used Ford Ecape Dealership Serving Wichita Kansas, Hutchinson Ks, Newton KS, Salina Ks, Junction City KS and Kansas City Mo.

Used Ford Escape Key Benefits

- Strong fuel economy
- Responsive driving dynamics
- Well-designed interior
- Budget friendly base model
- Reliable winter vehicle
- Attractive styling

Used Ford Escape Interior and Features

The used Ford Escape can comfortably accommodate five people. All seats have sufficient room for adults. The driver's seat is adjustable, giving you a comfortable position for the steering wheel. Visibility is also good. The front seats are spacious and comfortable while providing great support.

Also, adult passengers occupying the rear seats have decent legroom and headroom. They also have sufficient padding and support, which is great for long trips. You can also recline the rear seats for more comfort. Both rows of seats come with cloth upholstery as a standard. However, you can upgrade to leather if you prefer. Other available features include a heated steering wheel, heated front seat and a power-adjustable driver's seat.

Ford has worked effortlessly to minimize the number of switches and buttons on the console and dash. Therefore, most adjustments have to be done using the touchscreen. Apart from reducing clutter on the dashboard, you can easily access the controls via the main control panel on the touchscreen.

Its premium interior is another area where the Escape outshines others in its class. It comes with lots of soft touch materials. There is also extra sound insulation, resulting in a peaceful and quiet ride on the highway. As for storage space, you get one of the biggest cargo holds in its class. The main cargo hold has 34 cubic feet, which increases to 68 cubic feet when you fold second-row seats. The cargo floor is also low, making it easy to load heavier items.

Used Ford Escape Drive and Performance

You can choose any of the three available engines. The base trim comes with a 2.5-liter, four cylinder engine, with an output of 168 hp. The midrange trim comes with a 1.5-liter, turbocharged four-cylinder engine, with an output of 179 hp. If you want more power and speed, then you can choose the turbocharged 2.0-liter, four-cylinder engine, with an output of 245 hp. All the engines are paired with six-speed automatic transmission. Few SUVs in its class can match its athleticism and handling prowess, which is characterized by a well-balanced suspension and sporty cornering. The steering also responds quickly.

Used Ford Escape Safety and Reliability

The Escape is one of the safest cars in its class. It comes with the mandatory stability control, as well as a full package of airbags. There is also a rearbelt warning system for all the passengers, which is a great feature when driving with juveniles. Other standard safety features include rear parking sensors and a reversing camera.

It also comes with an emergency assist feature. This unique feature can automatically call for emergency assistance during a crash. It uses a connected mobile phone. Every Escape is also fitted with My Key feature, which allows you to set certain limits regarding speed and audio volume. You can use this feature for teenage drivers.

Higher trims such as the Titanium and Trend versions are fitted with auto headlights and wipers. You can also enhance your Escape with the Technology Pack, which features adaptive cruise control, lane keep assist, rear cross traffic alert, and Enhanced Active City Stop. Also, your headlamps automatically switch to low beam, thus preventing glare for oncoming drivers. There is also a tire pressure monitor, which warns you when the pressure falls to critical levels.

Verdict

Over the course of 15 years, the Escape has significantly improved. It is currently one of the best compact SUVs on the road. Most drivers love its attractive styling, sporty performance, and nimble handling. When you add new safety technologies, the Escape becomes a reliable all-rounder vehicle, for all your daily driving needs. Shopping for a small crossover should never be a problem anymore, as long as the Escape is on the market.

View Used Ford Escape Inventory

Conklin Used Ford Ecape Dealership Serving Wichita Kansas, Hutchinson Ks, Newton KS, Salina Ks, Junction City KS and Kansas City Mo.
More Used Ford Models:  Used Ford F-150  Used Ford Explorer  Used Ford Focus  Used Ford Escape  Used Ford Mustang    Used Ford Fusion    Used Ford Edge


More About: Used Cars Hutchinson  Used Cars Salina  Used Cars Newton  Used Cars Kansas City
Conklin Cars