Used Chevrolet Traverse Near Wichita, Salina, Hutchinson, Newton Kansas

A used Chevrolet Traverse is a perfectly rounded vehicle. It combines a comfortable ride with a nice appearance and plenty of storage space. It is designed for users with families or those with towing needs. No SUV in its class can compare to it when it comes to a huge interior volume, a smooth ride, and excellent safety ratings. With a delightfully comfortable interior, stylish and handsome interior and high seating capacity, the used Chevrolet Traverse is simply a cut above the rest. If you are looking for a reliable vehicle that can carry your family around town in style, then this large SUV should be on top of your list.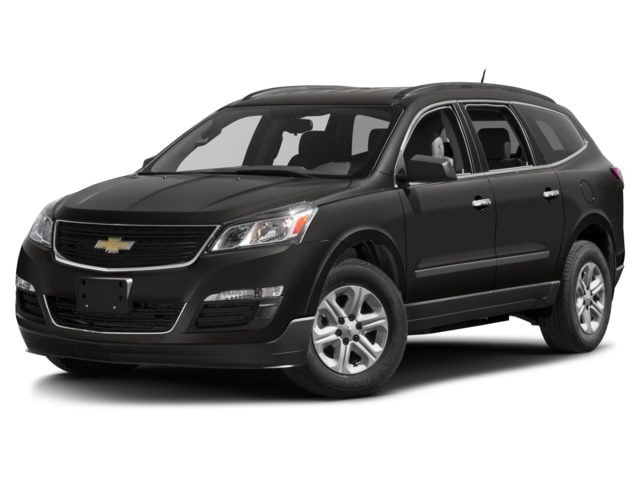 View Used Chevrolet Traverse Inventory

Conklin New Toyota 4Runner Dealership Serving Wichita Kansas, Hutchinson Ks, Newton KS, Salina Kansas City Mo.

Used Chevrolet Traverse Key Benefits

- Remarkable comfort and quiet ride
- Spacious and beautifully designed interior
- Safe family vehicle
- Powerful V6 engine
- Handsome and stylish exterior
- Advanced infotainment system
- Exciting optional features
View Used Chevrolet Traverse Inventory

Used Chevrolet Traverse Interior and Comfort

The base model has a seating capacity of eight people. It comes standard with sliding second-row seats and cloth upholstery. You can also replace the second-row seats with captain's chairs if you wish to change the configuration. The arrangement also brings additional comfort but reduces the seating capacity to seven.

Available features include power-adjustable front seats, a heated steering wheel, heated and ventilated front seats and leather upholstery. Both the driver and the front passenger have ample space. The seats are also supportive even during long trips. The second-row seats are also supportive and comfortable. The ability to slide them creates extra space for taller passengers. The third-row is more convenient for children. It also has large rear doors, which make entry and exit easy. The cabin is roomy, eye-catching and has numerous soft-touch materials. The interior materials are of high quality. Once you hop inside the leather upholstery, you immediately get a feeling of luxury. It also features sufficient insulation against external noise. You don't have to shout to have a conversation.

Its cargo space is one of its main strengths. It has one of the largest cargo holds in its class, with approximately 24.4 cubic feet of the main cargo space, 70.3 cubic feet when third-row seats are folded and 11.6.3 cubic feet of cargo space behind the first row. You, therefore, have enough space to store all your luggage even when traveling with your entire family.

Used Chevrolet Traverse Drive and Performance

The base Traverse model comes with 3.6-liter, V6 engine, which is paired with a 6-speed automatic transmission. It has an output of 281 hp. With so much power, you can travel comfortably even when the whole vehicle is loaded. Also, you will not encounter any issues while trying to overtake or merging highways. The transmission also provides timely and smooth shifts.

Used Chevrolet Traverse Features

Besides its sheer power and versatility, the Traverse comes with numerous standard features. The base model is equipped with a rearview camera, keyless entry, rear USB ports, Bluetooth phone connectivity, and an infotainment system with a 6.5-inch touchscreen display. LT models come with a leather-wrapped steering wheel, power driver's seat, and a power liftgate.

On the other hand, LTZ models feature dual exhausts, a heated steering wheel, Bose premium audio, heated and cooled front seats. General Motors understands that today's passenger spends most of their time on their mobile devices. That's why the Chevrolet Traverse is a rolling Wi-Fi hotspot. With this subscription-based service, up to seven devices can connect through the inbuilt 4G LTE system.

Other available features include a four-wheel drive for enhanced traction, rear seat DVD system, dual-panel sunroof as well as a small bump in power. You can also upgrade to the Chevrolet's MyLink Touch system, which combines hands-free phone communication, Bluetooth audio streaming, voice recognition as well as compatibility with various apps like Pandora.

The rearview camera is the main safety feature. However, it comes with numerous available safety features, including blindspot monitoring, forward collision alert, lane departure warning, and rear cross traffic alert.

Verdict

The Chevrolet Traverse remains one of the most passenger-friendly and spacious SUVs on the market. Its main mission is moving people and cargo. With that in mind, the manufacturer has given it a large storage space and a spacious interior. Besides its hauling capabilities, it is also nice to drive, comes with lots of features and the exterior is stylish. If you are looking for a large, 3-row SUV, which can accommodate a growing family at an affordable cost, then the used Chevrolet Traverse provides lots of value for the money. Visit any of our showrooms today and select your preferred model.

View Used Chevrolet Traverse Inventory
Conklin New Toyota 4Runner Dealership Serving Wichita Kansas, Hutchinson Ks, Newton KS, Salina Kansas

See other Chevy Cars, Trucks and Suv's:
 


More About: Used Cars Hutchinson  Used Cars Salina  Used Cars Newton 
Conklin Cars